When you export a Figma layout with lots of images or heavy images using UiChemy, it can take a long time or might show some errors as well while importing in Elementor.
UiChemy provides a workaround to this problem where you can export your Figma layout without images as well.
Export Figma Design Without Images
To do this in Figma, open the UiChemy plugin and make sure you are logged in to your account.
Select the top level frame of your layout.
Then click on the settings icon in the Convert to Elementor button.
Turn on the Download without images toggle on the next screen. You can check the Remember Choices checkbox for UiChemy to remember the settings for future exports.
Then click on the close button to return to the previous screen.
Now if you click on the Convert to Elementor button, the layout will be exported without any images which you have used in your Figma layout.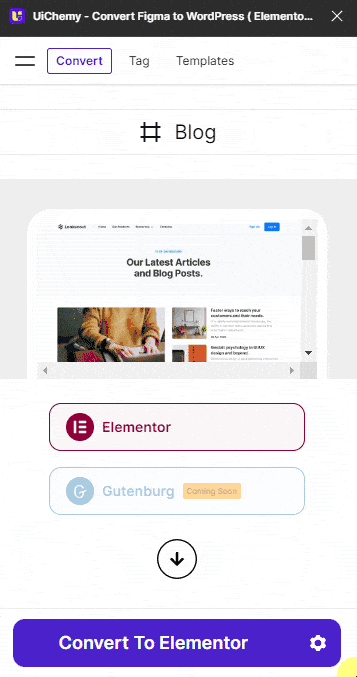 Your images will be replaced with the Elementor placeholder images when you import the template in Elementor.
As a result, the exported file will be imported quicker.